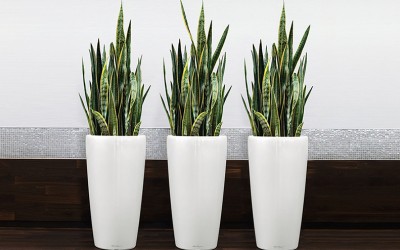 Contribution to Longevity Properly chosen pot or container for seeding the houseplant strongly and permanently affects appearance and health of the plant. Design, shape, material and coloration of the pot as well as its visual compatibility with your ambient are...
Stepping Towards Better Health and Mood
Indoor plants and flowers will enrich your interior while simultaneously improving oxygen levels and creating natural energy balances that enhance the spirit and health of your colleagues and family.
We can assist you in choosing houseplants for your business and living environment as well as in selection adequate classic and designers pots.
Care For Plants Is Care For Ourselves
While selecting houseplants it is necessary to understand their features and needs, especially the need for sunlight, moisture and fertilization. Lacking or excessive exposure of the plant to some of those factors could jeopardize the plant and significantly impair its appearance and life duration.
Equally important is adequate selection of planting pots. From technological perspective, old fashion pots have been superseded by pots aligned with modern technological solutions enabling autonomous watering, soil moisture measurement… Such pots provide higher comfort and simplify caretaking, while simultaneously offering both modern and traditional designs and materials. Pots of this kind are recommended particularly for mature and expensive plants since their functionality and high end design will enhance overall experience of entire houseplant arrangement.
No Results Found
The page you requested could not be found. Try refining your search, or use the navigation above to locate the post.